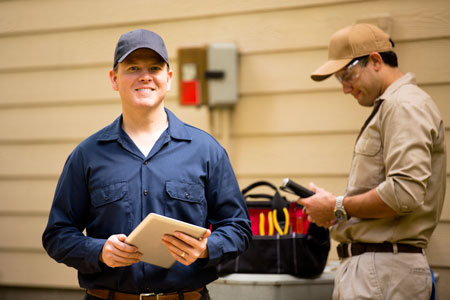 B.A. Colella Heating & Cooling, LLC. has been serving residential and commercial customers for over a dozen years with reliable and affordable service.  B.A. Colella Heating & Cooling, LLC. is always available to ensure that you stay comfortable in your home or business, and your equipment is operating at its highest efficiency.  The majority of our business comes from happy customers and word of mouth referrals, so our continued success is a reflection of our customer's high level of satisfaction.
When  you require service on your home's heating and air conditioning systems, our skilled technicians have the knowledge and ability to diagnose, adjust, repair, or replace the specific component to ensure that you are comfortable all year long.
Our first responsibility is to ensure that every customer receives high quality and reliable service. Some of our services include:
Equipment Replacement: We provide the best value on the highest quality comfort systems for your home and business including exact replacements or installing energy efficient upgrades. We also perform oil to gas conversions as well. We will evaluate the project with an on-site visit, educate you on the available solutions, and listen to your requests to design the perfect custom system to satisfy your specific comfort needs.
Complete System Installation: When it comes to new construction or add-on renovations, we design quiet, reliable, and efficient comfort systems to satisfy the specific demands for any project.
Duct Work: We design and install the ideal duct configuration for your specific comfort system. Whether you are interested in an exposed spiral duct system for your commercial or industrial project, or an air tight and balanced system for your next energy star certified project, we've got you covered.
Indoor Air Quality: Installing a wide variety of indoor air quality products to ensure you have the maximum comfort in your home including humidifiers, dehumidifiers, energy recovery ventilators, fresh air economizers, Wi-Fi thermostats,  zone control systems, media filters, and electro-static air cleaners is our specialty.  No matter what is required, we have the product and solution for your system.
Preventative Maintenance: We offer residential and commercial preventative service agreements to maintain optimum efficiency and performance of your current systems.